Disc Golf Wholesale offers assorted foil hot stamping on orders of 50 discs or more, and custom full color printing for with no minimums. We provide custom stamping on a variety of mini marker discs, and full-sized disc golf discs. Here is how it works:
Pricing, Process and Time
Custom Hot Stamp - minimum 3 week lead time from when artwork is approved.
Minimum of 50 discs / 25 discs per model
Many plastic types to choose from
$80 one-time stamp die engraving fee for new art
$20 set up fee
$.10 Per Disc Stamping Fee
We offer custom-stamping on a variety of different models and plastics at different price-points. Custom orders require four (4) weeks lead time from the time artwork has been approved. Orders submitted less than four (4) weeks from the required date will incur a $50 rush order charge, if we agree to accept the order. No exceptions.

The first time a piece of art is submitted for custom-stamping, there will be a fee for making the stamping plate of $50 for a mini-sized stamp of 3" or less and $80 for a full-sized stamp of 3"+ to 5.5". Each order will require a $20 setup fee. Subsequent orders for the exact same artwork will have a setup charge, but no stamping plate charge as long as we have the plate on file.
The price for custom orders is the wholesale cost of the discs (based on your specific pricing tier), plus $.10 per disc stamped. The cost is based on providing you with all first-quality discs and stamps. Customers will have the option of purchasing mis-stamps or factory seconds at a reduced cost per piece. Please note that the term "1st Quality" refers to discs within an acceptable margin of error as determined by Disc Golf Wholesale. Due to the nature of the process, differences in plastic/rubber compounds and foil adhesion, some discs may show areas of imperfection. This is the nature of the process and all customers must be willing to live with minor imperfections.
A minimum of 50 total discs must be ordered for custom-stamping and a minimum or 25 discs per model is required.

Custom Full Color - No Minimum (Short turnaround time, 2 week minimum)
Available on limited models of Millennium Standard and Sirius Plastic.
$3.75 per disc which usually is cost effective for orders smaller than 50 because there is no die, set up or stamping fee
Full color ranges available, prints cover most of the top of disc, very little artwork requirements
Artwork
We hot stamp golf discs using your custom artwork. If you do not have artwork or your artwork is not hot-stamp ready, then we can help you with artwork at a charge of $30 per hour. If you have artwork that is ready for review or have questions about a stamping job, please e-mail us at [email protected]. We will assess any submitted artwork at no charge and prepare it for stamping if it meets our hotstamping guidelines.
We accept graphics in PDF, JPEG, VECTOR, and AI form but can only see the PDF and JPEG files. The artist that puts the artwork into a template can see the VECTOR and AI files. If you need DGW to manipulate the artwork for better compliance to the guidelines, an hourly graphic design charge may be applied.
Download Hot Stamp Art Templates
Our hot stamp templates are in vector PDF form. There is a blue guide line representing the maximum circumference of the design. Please remove this guide line while outputting your final vector PDF. Depending on the template there is also some drill bit guide holes (small black circles), these need to remain on the template and output as part of your final vector PDF.
Disc Golf Wholesale Hot Stamping Guidelines
Art Requirements
The stampable area is a circular canvas
5.25" diameter, art for your stamp must stay within this circular diameter
2.75" diameter for Mini Discs
Black & white art only. NO GRAYSCALE
No lines thinner than 1pt
No shapes/lines or solid coverage areas thicker than 18pt (roughly the size of a dime). For large coverage areas, a pattern or texture is recommended to help break the foil coverage and anchor the foil to the plastic. With too large of coverage areas foil risks fall-out at times. See more about tearing below.
For text, use a minimum font size of 12pt. Any smaller can bridge foil and prevent legibility.
Common Stamping Issues and Solutions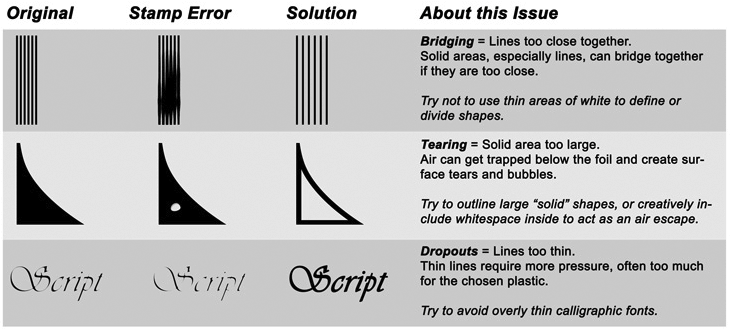 Please note: We will not, under any circumstances, stamp words, artwork, logos, or other trademarked images on custom stamped orders, except as requested by the owner of said trademark. Period. We also reserve the right to refuse artwork for any reason, and will not stamp controversial material such as blatant nudity, drug references, and the like.
Disc Colors and Stamp Colors
Customers may request specific colors of discs and/or hot-stamp foil, but we cannot guarantee that we can source blank discs in specific colors or hot stamp foil in specific colors. So all custom stamping orders are submitted with the understanding that these requests may not be honored when stamping your discs. Refunds and/or discounts will not be offered on custom-stamping orders.
Disc Models
We offer custom stamping on a variety of disc models from a variety of manufacturers at different price points. Our inventory of blank brands, products and plastics varies greatly from time to time. Please contact us to inquire about our current offering.